THK Official SNS account start!
THK Singapore has officially launched in SNS (Social networking service) account!
We operate 4 accounts from THK, WhatsApp and LINE (Thailand only) in chat
services, and update new information on Facebook and YouTube.
WhatsApps

We are opening for chat inquiries for all customers in Southeast Asia.
We are very happy to answer any questions about THK products, such as...
Checking Stock and delivery date
Request for Quotations
Conversion from another competitor brand
Consultation for product selection
Requesting catalogs
Introducing for our distributors etc...
Our sales team will answer your inqury as soon as possible.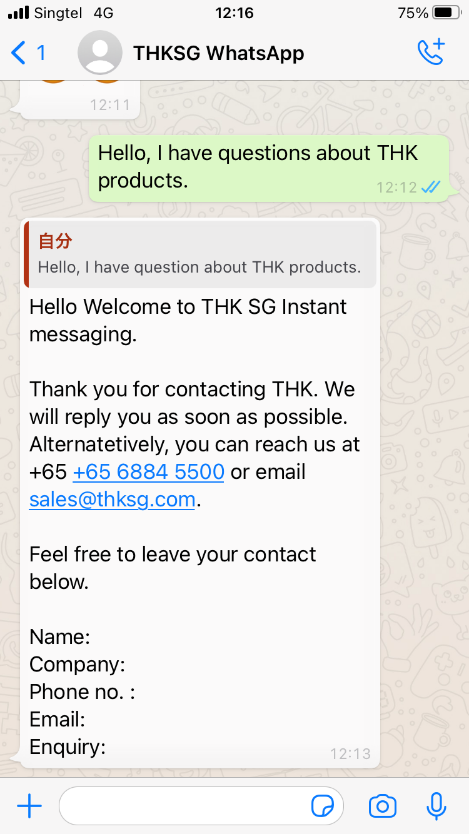 Facebook


Every week, we are posting about promotion news and seminar information.
We're very happy when you click in like, subscribe, share, etc.
Facebook Messenger is also opening, and we are welcome for your requests.
LINE in Thailand

For customers in Thailand, THK Thai can also support inquiries in Thai language.
We welcome any questions to available in Thai, English, Japanese.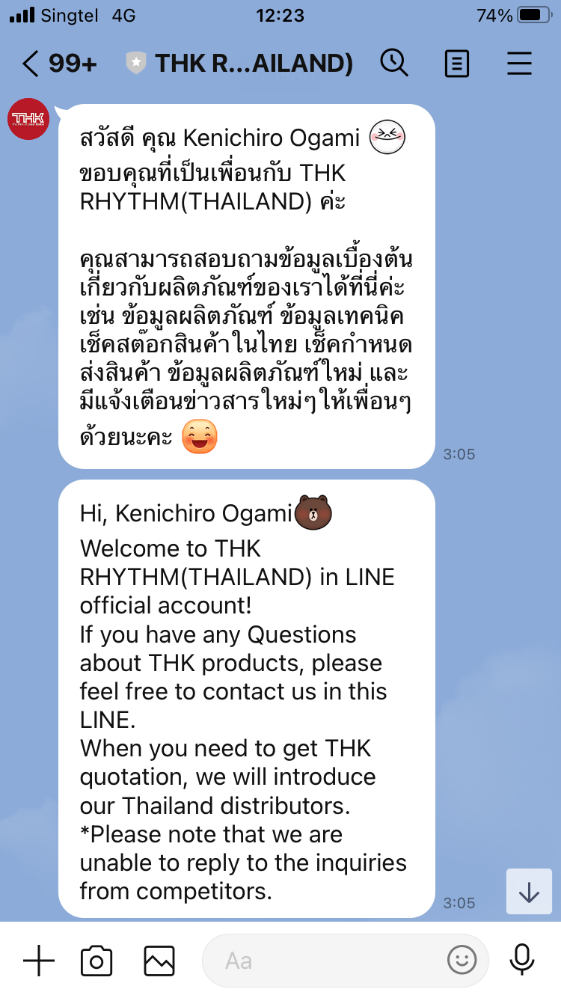 YouTube

A variety of product videos are available from THK headquarters in Japanese and
English. New product promotions, exhibitions, examples of THK products in use,
Types of actuators, simple selection methods, and actuator accuracy will be introduced.
company introductions and many other contents are presented.
THK products are components that support your movement. So, it is easy to imagine how THK products are used and moved.

We'd like to see you on our SNS account!
THK LM SYSTEM Pte. Ltd.
38 Kaki Bukit Place LM Techno Building Singapore 416216
Tel: +65-6884-5500 / Fax:+65-6884-5550
E-Mail:sales@thksg.com